Creighton University Student Employment Office
2500 California Plaza
Harper Center, Room 1100
Omaha, NE 68178
1-800-282-5835
Local: 402-280-2408
Fax: 402-280-2895
"My time as an intern for University Communications and Marketing has been a great learning experience. I work alongside industry professionals that give me the opportunity to create public content. Being an intern for the University takes the skills you pick up in the classroom and fine-tunes them for your career."
- Connor Cahill
UCOM Intern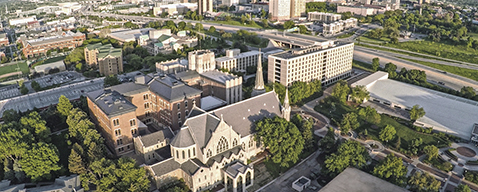 In order to comply with Federal law, all students at time of hire must complete a Federal I-9 Employment Eligibility Verification form. You must present Creighton Human Resources staff a valid photo ID and an ORIGINAL document that proves you are eligible to work in the US. (The most commonly acceptable documents are: original social security card or original birth certificate or US Passport.) No photocopies or faxes please. International students must present unexpired passport with US VISA, I-94 and I-20. View I-9 form and a complete list of acceptable documents.
Handshake is Creighton University's online career management system that offers many benefits including a search function for On-Campus Student Employment, a mobile friendly interface, and a personalized experience for students and employers to connect for opportunities. Keep in mind that some on-campus jobs are filled by word-of-mouth. Contact any departments of interest directly.